Hello, friends,
Many years ago my heart was pierced when reading Francis Weller's statement,
"The work of the mature person is to carry grief in one hand and gratitude in the other, and to be stretched large by them. How much sorrow can I hold? That's how much gratitude I can give."
Funny how one sentence can have such a big impact.
In recent years I've been mentoring with Francis, been leaning into my own practices of intentional gratitude and grieving, and offering opportunities – through my Embody Gratitude course and Community Grief Tending Rituals – for others to join me in this cultivation.

My friend Kinde Nebeker and I hosted a Grief Tending ritual at Great Salt Lake a few days ago, though the weather forecast looked treacherous. We made our way over that surreal landscape, littered with plastic trash as we began our walk toward the water. The land grew more pristine as we continued our journey, only salt and sand and a decaying seagull wing underfoot. There was lightning in the distance in three directions, dramatic clouds were reflected in the still water. We set up by the shores of that great salty lake of tears, we circled, we drummed, we took turns approaching the bowl of water in the center of our circle to allow grief to wash through us.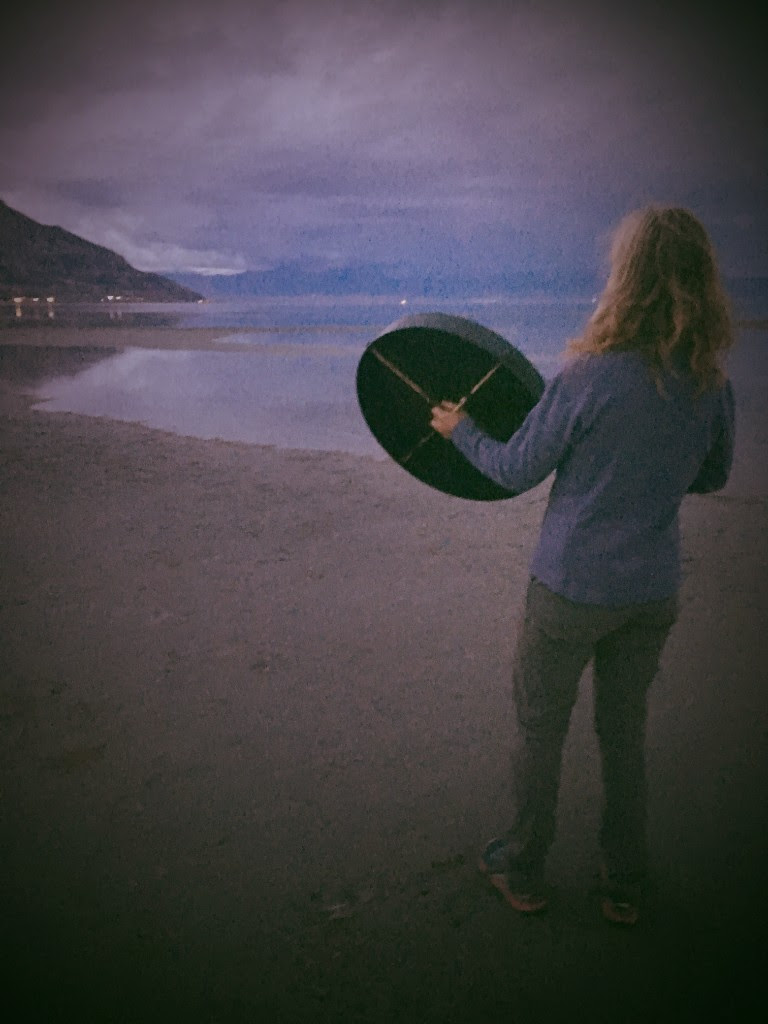 When it was my turn, I knelt at the bowl, and all I felt was pissed off. At injustice. At insult. At the appalling behavior of the U.S. government. At the incredibly harmful powers that be that don't give a thought to my son's generation nor those beyond, that cause so much harm to the natural world, to people of color, to the possibility of thriving life, now and in the future.  I was pissed about the ginormous percentage of people I know, both women and men, who have been reliving historical sexual assault.  So much rage and sadness surrounds this collective wound. And I couldn't weep. I was just mad mad mad. So I stood up again, and as I beat my drum, I yelled toward the sky, toward all these forces of harm in the world, historical and current, a giant, loud, and soul-satisfying,  "FUUUUCK YOUUUUUU!!!" Then I did it again. And again. Until it was enough, and then I came to my knees.
And I wept and I wept and I wept.
I love these words of Pema Chodron's recently shared by my friend, Chris Faith.
"Instead of transcending the suffering of all creatures, we move toward the turbulence and doubt. We jump into it. We slide into it. We tiptoe into it. We move toward it however we can. We explore the reality and unpredictability of insecurity and pain, and we try not to push it away.
"If it takes years, if it takes lifetimes, we let it be as it is. At our own pace, without speed or aggression, we move down and down and down. With us move millions of others, our companions in awakening from fear. At the bottom we discover water, the healing water of bodhichitta. Right down there in the thick of things, we discover the love that will not die." – Pema Chodron
At these grief rituals, we're doing exactly what is not the habitual response of our modern culture. We move toward the dark. We quit suppressing it. As was so clearly expressed to me in a dream-vision that first called me to Tend the River of Grief, "Grief only becomes toxic when humans refuse to feel it."
You know what I believe is equally important to making space for these wild, uncomfortable feelings?
Intentionally turning toward what lights us up.
It's more important than ever right now.
If we don't turn consciously turn toward the grief, the outrage, the sorrow…
Likewise, if we don't turn intentionally toward the beauty, toward our almost devastating gratefulness at the beauty of being alive for a short time in this world…
instead of being stretched large, arms open to the world, we sort of end up mucking around in the armpit of life, avoiding our feelings of grief and outrage as well as the heart-cracking gratitude.
We can end up lost in mindlessly scrolling our devices, or distracting and numbing ourselves by whatever our favorite means.
It's so very easy to miss the beauty.
It's so very important that we don't. 

I come again and again to these lines from Mary Oliver.
All my life, I want to be a bride married to amazement.
I want to be the bridegroom, taking the world in my arms.
I don't want to end up simply having visited this world. 
How do we do more than visit?
How do we take life in our arms, let it wash over and through our soft bodies and aching hearts?
We practice. As Pema wrote, we tiptoe toward it, we slide into it… however we can. We practice being stretched. And then stretched further again.
When I spoke with Francis Weller yesterday, I shared with him, with a little embarrassment, the story of my FUCK YOU-fest. How I couldn't seem to grieve until I let it rip.
What Francis said settled my trepidation. He said this,
"Grief is not always about tears.
It's also about outrage, when the soul is insulted.
Rage is the voice of pain at having been violated.
All of this is grief."
I'm feeling pain and rage on behalf of so many. Maybe you are too. It's humming right there at the surface of collective consciousness. I know so many people, and you may be one of them, who've been forced this past week to re-live historical sexual assault, and then watch the all-too-often repeated situation of the victim not being believed, and then even being blamed on top of it. And then mocked by our president?? It's appalling.
Francis quoted James Hillman as saying, "The sure sign of a soul awake is that it is outraged."
Well, I'm awake!  Are you?
And I'm compelled to add, "The other sure sign of a soul awake is profound gratitude." 
Good thing it's 100% possible for both of these to coexist at the very same time in the very same body-mind.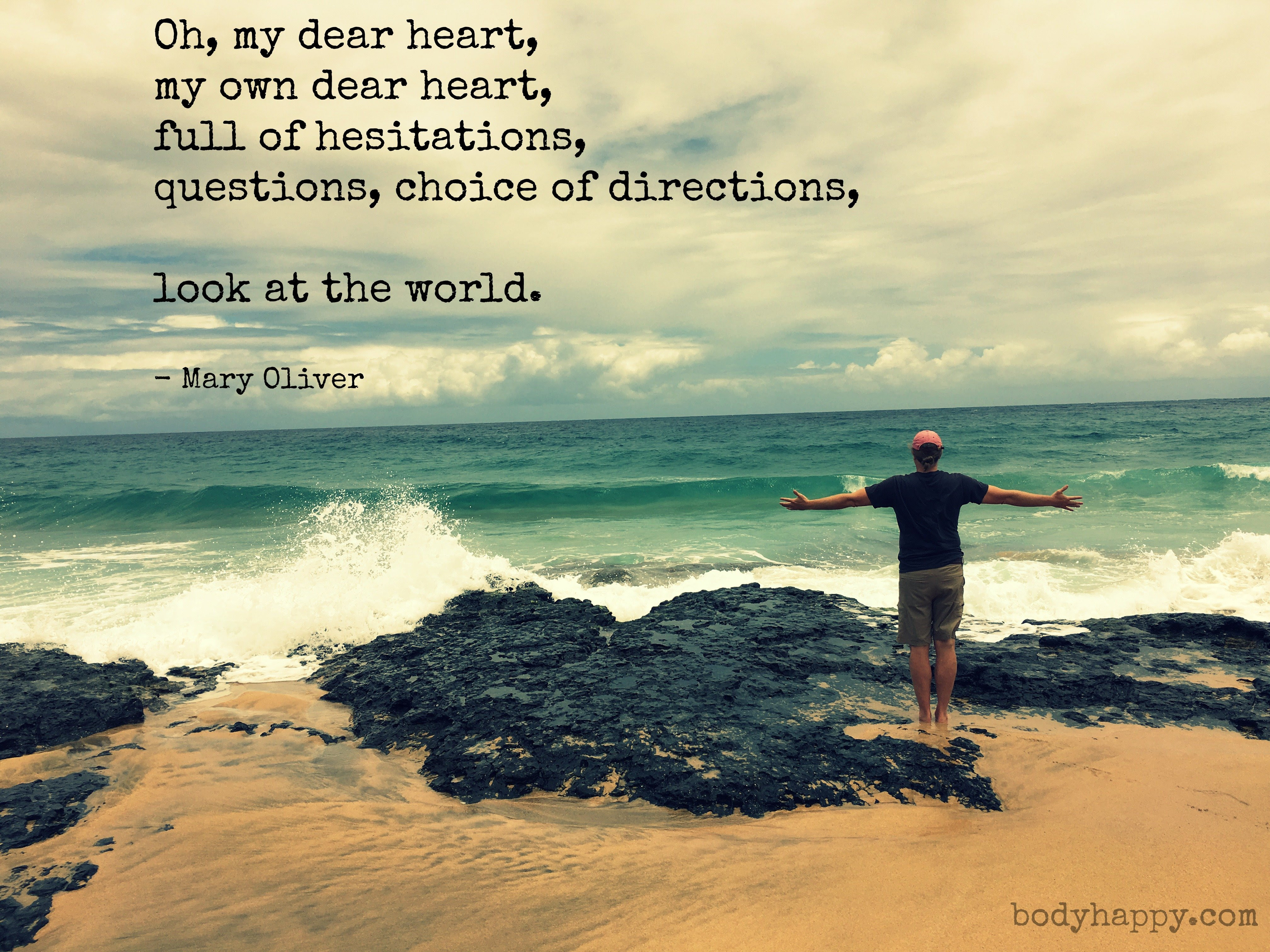 Here's what else I know. If I don't intentionally stretch in the direction of beauty, toward what makes my heart sing even in the midst of this shit show, I will burn out and get sick. Instead of courageously letting my outrage pass through, I might become an angry, bitter human being. I don't want that state to become a trait.
Knowing about the brain's negativity bias, I understand the deep importance of turning towardbeauty again and again and intentionally taking it in. Taking it into my heart, to my gut, to my memory. Again and again and again. 
To honor the beauty in a suffering world…. that is part of our calling.
To not walk by the color purple and ignore it, which, as Alice Walker wrote, pisses God off.
I love this line from one of my hero-writers, Kathleen Dean Moore. (Have you read Great Tide Rising yet??)
"There is hope in this:
An attention that notices and celebrates thriving where it occurs;
a conscience that refuses to destroy it."
Last week when the Kavanaugh hearings were unfolding and most women I know were ready to throw heavy objects through windows or blow things up or eat all the carbs in the house, it didn't feel like the right time to share an invitation to my annual Embody Gratitude course.
And this week again, everything feels so crazy, so URGENT, that for a moment I thought maybe I shouldn't send it.
But you know what? Intentional cultivation of gratefulness is perhaps more important than ever.
Impermanence is real. As Rilke wrote so beautifully,
"Somewhere the flower of farewell is blooming. Endlessly it yields its pollen, which we breathe…." 
We don't know how long we've got here in this beautiful, awful, imperfect world.
And me?
I don't want to end up simply having visited.
I want to take the full measure of the beauty of this life into my bones. Into my heart. Even while I make space for outrage and grief, I will lean and lean again into beauty.
Can I invite you to join me in this courageous practice?
I hope you'll check out the invitation to my (very inexpensive) online course, Embody Gratitude.
All the info is here.  
Let us go on, cheerfully enough. 
Let us go on taking the world into our arms. 
With love and rage and tears and big gratitude,
Erin
Lines Written in Days of Growing Darkness
Every year we have been
witness to it: how the world descends
into a rich mash, in order that
it may resume.
And therefore
who would cry
out
to the petals on the ground to stay,
knowing, as we must,
how the vivacity of what was is married
to the vitality of what will be?
I don't say
it's easy, but
what else will do
if the love one claims to have for the world
be true?
So let us go on, cheerfully enough,
this and every crisping day,
though the sun be swinging east,
and the ponds be cold and black,
and the sweets of the year be doomed.
– Mary Oliver
Don't miss a single post. Sign up here to get them delivered straight to your inbox.