A note from Erin:
Hello, friends!
A few updates before I share today's writing:
I still have a few spaces left in my Empelvised Embellied Empowered class for women which starts on October 1st. It's a life-changer! Details are below and here. I've been engaged in a beautiful and powerful conversation on Facebook, of all places, on this topic of inhabiting your belly and pelvis, after I posted a photo of a window display I passed in Santa Fe with a giant sign saying "So long tummy!" We're bombarded with such nonsense all our lives. It reaffirms my sense of how very needed this work is!!!
As Clarissa Pinkola Estes wrote so beautifully: "A woman cannot make the culture more aware by saying 'Change'… But she can change her own attitude toward herself, thereby causing devaluing projections to glance off. She does this by taking back her body. By not forsaking the joy of her natural body, by not purchasing the popular illusion that happiness is only bestowed on those of a certain configuration or age, by not waiting or holding back to do anything, and by taking back her real life, and living it full bore, all stops out. This dynamic self-acceptance and self-esteem are what begins to change attitudes in the culture.' 
Let's do it!! It's so much easier when we do it together. Learn more and claim your spot here.

I saw this gorgeous sculpture on Canyon Road in Santa Fe last week. Isn't she lovely? 
Local friends, due to my being in New Mexico for our Ghost Ranch retreat, there will be no Full Moon Meditation in City Creek Canyon this Monday. We'll share details on future New and Full moon community meditation practices soon. 
We have a brand new podcast episode where we have a rich conversation with incredible teacher, writer, mythologist, storyteller, and community activist Michael Meade all about embodiment, truth and myth, your innate genius, and more. Check it out! 

I'm writing this morning as I'm sitting here in my room at Ghost Ranch Retreat Center in northern New Mexico, surrounded by shapely landscapes that constantly change color with the mutable light, landscapes that have been painted countless times by Georgia O'Keeffe (and other artists.) There's a gentle rain falling. Last night I heard that wild and enlivening sound of coyotes yipping and howling as I drifted off to sleep. This morning I laughed at the throaty calls of ravens talking to each other in the cottonwoods overhead. Tonight our Embody Your Genius Retreat begins. I'm sooooo excited!!!
I'm thinking of one of Georgia O'Keeffe's many wise sayings that's all over merchandise at the O'Keeffe Museum's gift shop. It's this: "Take time to look."
So simple. But do we?
A while ago I heard a story told by Tara Brach which has been haunting me in a good way. She spoke of a research study done with seminary students in which an actor was hired to portray someone who was recently mugged and left beat-up on the roadside, needing help. The actor was in an alley through which the students would walk and pass him while they were on their way to give a sermon on "the Good Samaritan."
What they found in the study was staggering to me.
The twist was that half the students were told to rush because they were late and half were told to take their time as they were early.
Even among adults devoting their lives to spiritual study and on their way to speak about being a Good Samaritan (!!) when in a hurry, only 10% of them stopped to help the mugged man. Those who felt they had more time? 63% stopped to offer assistance.
It makes me so wary of my own tendency to hurry, rush, or believe that crazypants lie: There's not enough time!
This mindset not only stresses me out, hurries my breathing, raises my shoulders, tightens my whole body – but I wonder – what might I be missing in the world when I'm oriented in this way? In how many invisible ways might a hurried lifestyle be doing harm?
It's sobering.
I've long loved this line from Donna Farhi's wonderful book Bringing Yoga to Life:
"The degree to which you do not believe you have time to spend even ten minutes sitting quietly is the degree to which you desperately need to spend ten minutes sitting quietly.
If we did nothing else in our spiritual practice but reduce our accelerated pace the world would be transformed overnight.
When we find ourselves hurrying or pressing others out of our way, we might ask ourselves exactly where we are going in such a rush.
What are we running away from, and what are we running toward?
Pause for a moment.
Sit down and relax.
Take a deep breath in and out…
The moment opens itself for you. Will you step in?"
Shall we step in?
Or are you too busy to drop into your actual life?
I aspire to bring unhurried openness I'm reveling in here in the Land of Enchantment to my everyday life back home. Especially when I'm operating under the harmful illusion that I don't have time.
May our courage to step outside the rush and open fully into the spaciousness of the moment
bless us
and through us all the others in our lives.
May we be generous with our forgiveness for all the ways we falter,
and may the life-giving seeds within us be nourished by our care
and blossom into a future rich in love.
With big love and big skies from New Mexico,
Erin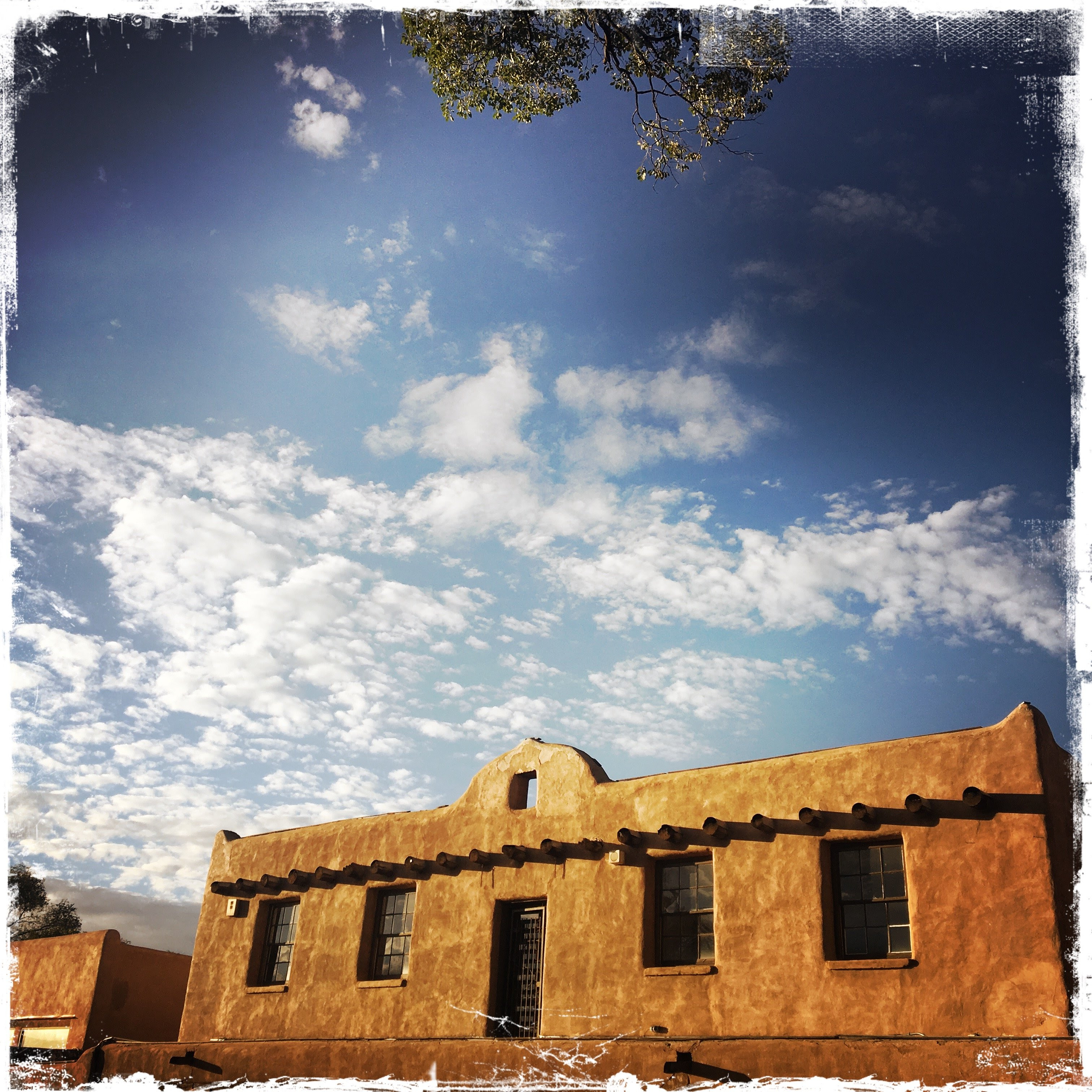 Don't miss a single post. Sign up here to get them delivered straight to your inbox.