A note from Erin:
Hello, lovely humans.
First things first: Are you comfortable? Is your belly soft enough that breath can make its way down? What might like to unclench – your jaw, your neck, your back, your hips, your hands, your toes, your eyes? Can you sense the support of the ground beneath you? Follow an exhale all the way to its end?
Ahhhh. Better. Right?
Now how about a poem from Thich Nhat Hanh? This one has been doing my heart good this week.
The good news
they do not print.
The good news
we do print.
We have a special edition every moment,
and we need you to read it.
The good news is that you are alive,
that the linden tree is still there,
standing firm in the harsh winter.
The good news is that you have wonderful eyes
to touch the blue sky.
The good news is that your child is there before you,
and your arms are available:
hugging is possible.
They only print what is wrong.
Look at each of our special editions.
We always offer the things that are not wrong.
We want you to benefit from them
and help protect them.
The dandelion is there by the sidewalk,
smiling its wondrous smile,
singing the song of eternity.
Listen. You have ears that can hear it.
Bow your head.
Listen to it.
Leave behind the world of sorrow,
of preoccupation,
and get free.
The latest good news
is that you can do it.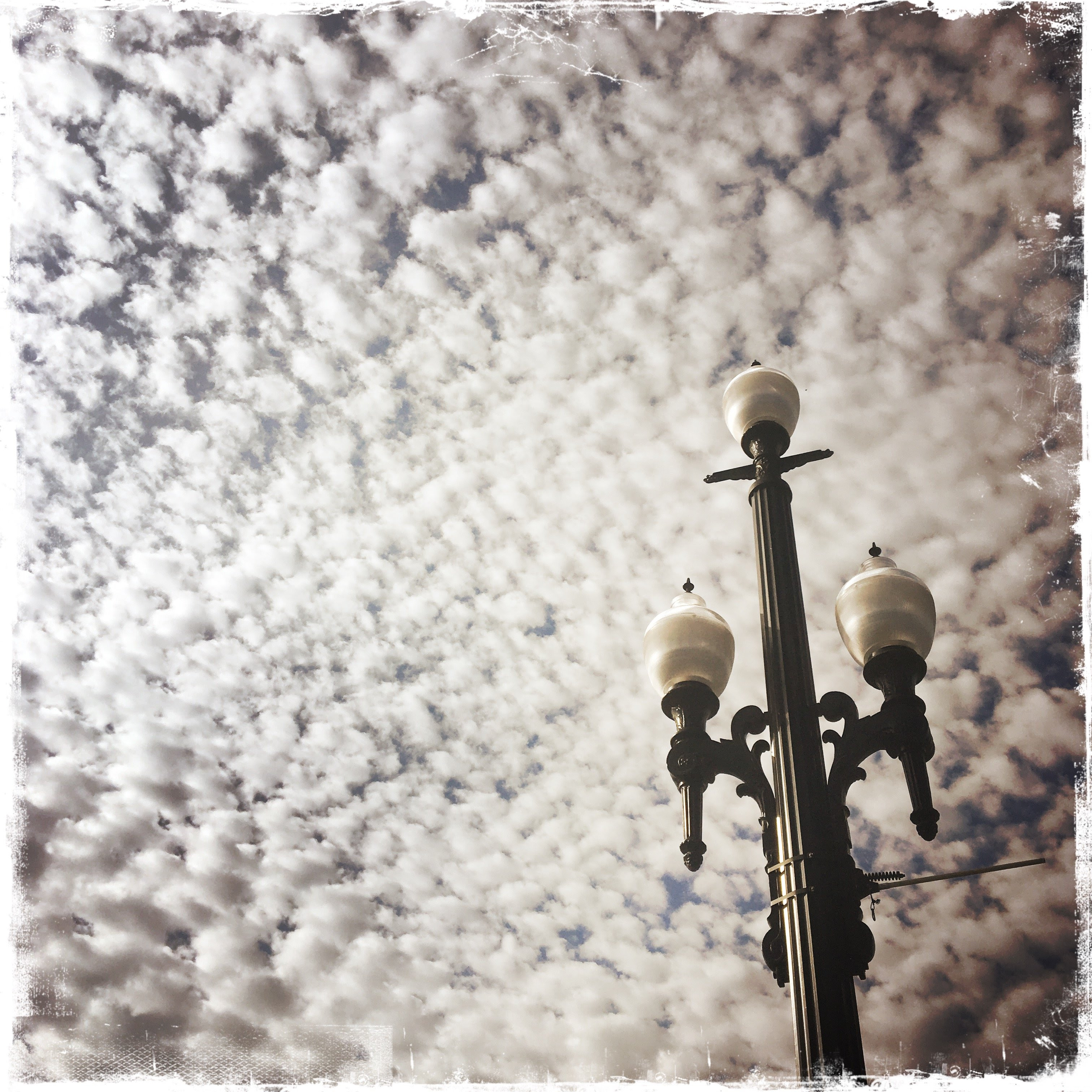 Shall we pause for a few moments to reflect on all that is NOT wrong?
As Thich Nhat Hanh says, we need you to read that news.
And the good news is you can do it.
Just here, there's clean air after rain. There's the lingering taste in my mouth after eating a delicious bowl of soup. There's a whiff of eucalyptus reminding me to breathe fully, a beloved friend at my table working on her computer, and eight hilarious hens running around our backyard. There's a fragrant fir tree in the living room, lovingly decorated by our 8-year old. There's this miraculous device on which I can write to you. There's a hot shower beckoning me, juncos and finches chirping at the feeder, and spacious skies.  Good news! And even better – there's so much more good news when I pause to notice. What's the good news in your world?

I have other good news to share with you.
We have several new podcast episodes and even more coming soon! It's our hope that this offering of enlivening conversations with wise teachers bolsters your heart during these crazy times, as they do ours.
Our newest episode is a powerful conversation with Charles Eisenstein which starts in real talk about the challenges of our times and ends in surprisingly vibrant hope and humor and love. The delightful conversation I had with creative maven Karen Wallace all about creativity and healing was wonderful. A new conversation with Robert Bosnak is at the editor's and will be coming shortly.
One of many prayers I say in the morning when I'm offering pinon incense on my front porch includes praise to the great illuminators that are the sun and moon and stars. Can you imagine life without them? And then I offer a prayer of thanks to the great illuminators who are the wisdom teachers of past, present, and future, asking for them to fill my mind and body with love, kindness, compassion, wisdom, clear seeing and skillful means. I can't even imagine who I'd be without my teachers.
It's my hope that our podcast is a part of that  – an opportunity for wise, illuminating teachers to share perspectives that fill our hearts and minds with all of those deeply necessary qualities. May it be so. Listen here! 
Some of my favorite times to listen to podcasts are when I'm driving or doing dishes and puttering in the kitchen. You?
We have several offerings for local folks taking place in Salt Lake City. 
We are offering a retreat day on December 15th including gentle movement, meditation, and poetry. We'd love for you to join us! Read more and register here. 

On January 5th, from 1-5:30pm, I'll be offering a mini-retreat to greet the New Year with our roots deep in the beautiful here and now so we can begin 2019 with a grounded body, an open heart, a clear mind, and abundant kindness. Let's create a clearing and spend an afternoon listening deeply to our hearts and guts, listening to what is longed for in our inner and outer lives in 2019, and listening to what Martin Shaw calls "the breathing flank of this dreaming animal, Earth." We'll spend time in silence, time moving our bodies in nourishing ways, time writing, time listening, contemplating, and imagining – all in an environment of abundant, courageous kindness. Just watch life bloom from that fertile soil! $100 includes the retreat, worksheets, delicious snacks, and special gifts. I'm so excited! Read our cancellation policy and  register here. 
Spaces are limited!
More good news!
I'm honored to host Bay Area teachers Mutima Imani and Constance Washburn, teachers and trainers in Joanna Macy's pioneering Work That Reconnects. They're coming over Martin Luther King, Jr., weekend (Jan. 19-21) to offer a life-giving workshop to help us shift from despair to joy. This work is so needed and so potent that I'm being trained to facilitate it myself during a year-long training in 2019. I'd love you to experience it with these masterful teachers. We're blessed to have them traveling to SLC. I hope you'll read all about it below or here. The First Unitarian Church is where we'll be meeting and I imagine spaces will fill quickly with folks from their community as well. I hope you'll join us! I'd be so honored to share the MLK weekend with you in this way.
Read more and register here. 
We face many life-shattering crises today: climate change, income inequality, social injustice, environmental destruction, institutionalized greed, to name a few.
These crises are more than we can bear alone, so let us come together to share our despair, our dreams, and connect with our passions to participate in Great Turning.
More good news!
We have some wonderful offerings of our own coming in 2019.
We'll have more details about these coming soon. Here's a quick sneak peek at just some of what we've got coming:
I'm thrilled to be offering an Embodied Listening Course on Monday nights in January and February.  This work is so potent, and while I include an introduction to it in my other embodied offerings, I always want more time! This class will be entirely devoted to supporting us in refining our skills at listening well and deeply – not only to others but to the many layers of our own inner lives – which is actually a central key to being a compassionate and skillful listener of others.
I'm SO excited! Weekly classes will be at 6:30 on Monday evenings at Vitalize starting January 7th. The skills learned in this class will make you kind. Registration coming soon!
Women Embodied, one of my favorite offerings, will return March 4th and run through June 3rd. As usual, the course will include potent embodied practices offered in weekly Monday evening workshops, 3 retreats, 2 books, a powerfully compassionate community, and more! I'll open registration to past participants first and then share details here. Please send me an email if you'd like to be on an early notification list.
Carl has some wonderful offerings coming up as well. In addition to welcoming new clients into the 10-sessions of Structural Integration (he still has a few spaces left!) he'll be offering a 3-part series on Feldenkrais and Functional Fitness on Thursday nights in January. I'm so excited! I'll be hiring a sitter so I can join in. More details next week.
And he's also bringing his potent healing offering, Embodying a New Masculine, back on Thursday evenings starting on February 28th. More details coming soon!
From Carl:
I've opened up a few spaces in my practice for people to do a 10 series of Structural Integration.You can sign up for the series here. Or choose a 3 payment option here. Feel free to email me at carl@bodyhappy.com if you have questions. 
We've got more exciting offerings in the works, including many for non-local folks. We're sorting out some technical details and have a very exciting online offering we can't wait to share with you soon!
And my dear friend Nan and I are working out details for our annual retreat at Ghost Ranch, New Mexico, in late September, with some exciting changes this year. More soon!
We are beaming so much gratefulness and love your way.
Thanks so much for reading. We're grateful to be connected. Thank you for the privilege of allowing us space in your inbox and in your life.
With love,
Erin
p.s. I'm late in sending the newsletter this week as I had so many details to sort with our new offerings – but I'm curious. What do you think about getting our emails on a Saturday instead of a Thursday? If you have an opinion either way, I'd love to hear. Thanks!
Don't miss a single post. Sign up here to get them delivered straight to your inbox.