A note from Erin:
Good day!
Oh, there's so much I'd love to share with you today. First, a little spring beauty.
Friends, our podcast conversations are blowing my mind and heart open in such beautiful ways. I'm so thrilled and so honored to be able to share them. I've relistened to all our original 6 episodes, and in the past week, we've recorded several new ones, each so profound, with Francis Weller, Leny Strobel, Will Johnson, and we have even more conversations coming later this week. When I feel disheartened for the apparent lack of wise elders in modern culture, or feel depressed about the seemingly dreary state of the world, all I need to do is tune in. The elders are here. They are HERE!!! They are feeding my heart. I'm so grateful!! You'll find links lower down in the email to listen in. I LOVE IT SOOOOO MUCH!!!!!
Second, I'm not quite sure what to say about the powerful, life-changing weekend I just shared with a circle of courageous beings at the Answering the Call of Our Times workshop.  I'm deeply grateful to engage in this important work in community. What I can say for now is that I know I'll be hosting gatherings like this again! I feel it's some of the most important work I've ever done. And while we shed tears and did some deep examining of ourselves and of this modern Industrial Growth Society, we also laughed a lot, danced, and drenched ourselves in beauty and wisdom. One participant wrote, "This weekend was full of grief and gratitude and joy and tears and time in canyons and time in silence and full-bellied laughter and rattles and poetry and writing and group reading and wholehearted support and ideas and passion and all the emotions and more than anything else, more than I really know how to describe, it was full of love. I was sitting in the sun during our lunch break today, eyes welling up, realizing that I don't think I've ever known love like this before. It is so deep and so steady and so full. I'm sitting in that beautytonight. I can feel it with every cell." It was profound. Soon I'll share dates and an invitation to join the next round if you're called.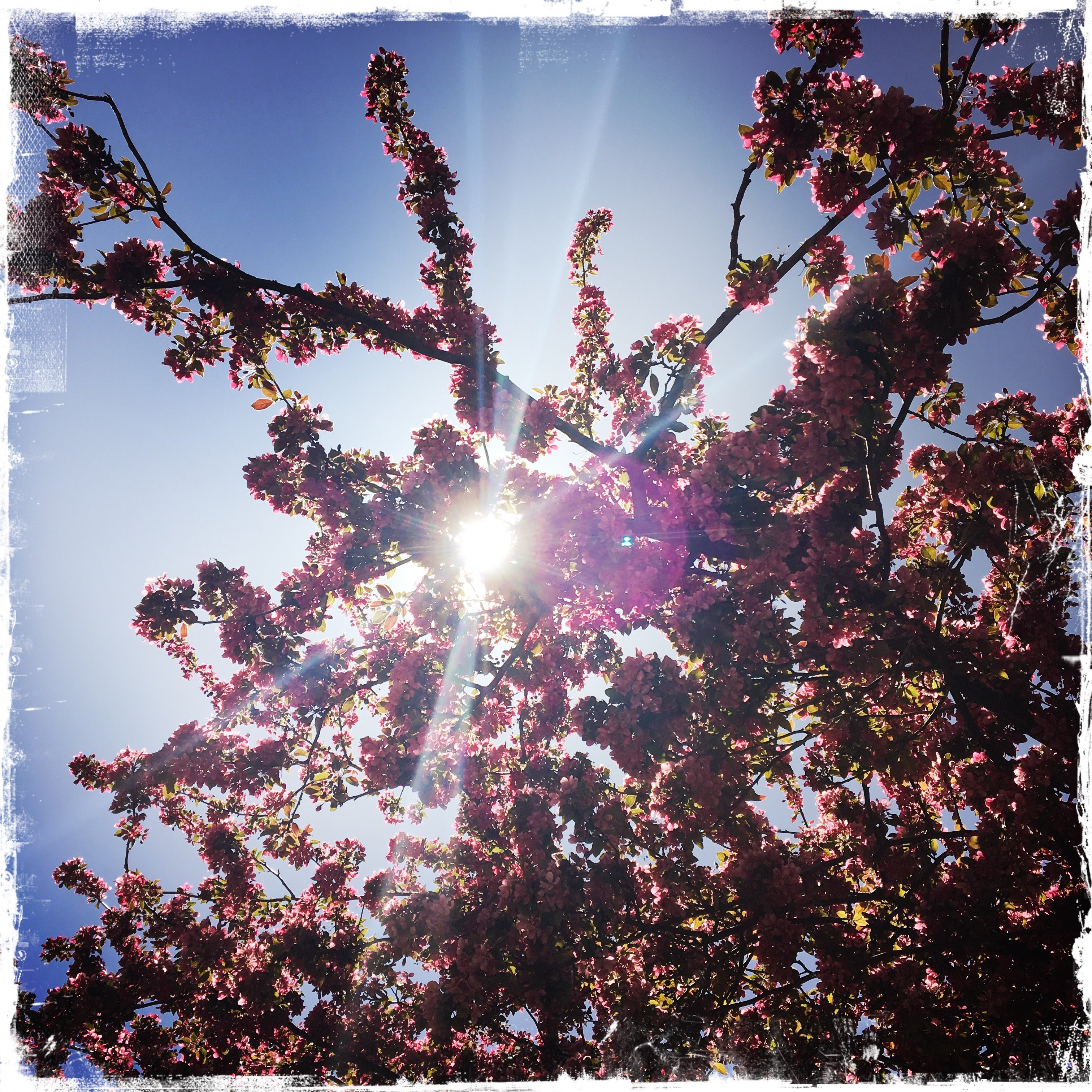 Thirdly, I'm SO excited about the upcoming online Poetry Retreat!!! We start on Tuesday, May 1st. Would you like to join me and a wonderful group of others in taking time each day to read and appreciate a poem?
Ever since I learned of neurologist Rick Hanson's simple and potent description that our brains are wired to accept positive experiences like Teflon (nonstick!) and negative ones like velcro (so damn sticky!) – I've had a deeper realization of the absolute importance to intentionally and regularly take in nourishing and heartening experiences to help me stay sane.
Poetry offers such a concentrated dose of truth and beauty.
I've been challenging myself to read as much poetry as I read news in recent weeks, and I can't even begin to tell you the difference it's made in my experience of the world. Even when I tune in to the crazy headlines, I know in my bones that another way is possible.

Would you like to join me and a wonderful online community in savoring poetry every day and see what it does toyour world? You're most welcome to join. The online class is just $50!  You can sign up right here! And just fyi – you don't need to be anywhere at any particular time. It's a very easy and user-friendly course format. All you need is an internet connection. Easy peasy!
Here's a dose of poetry to give you heart. This one, thanks to Rumi.
Let's put our hands on this oar together!!!  We will be so happy. :)
Click here to listen to me read this poem to you. 
 That Lives in Us
If you put your hands on this oar with me,
they will never harm another, and they will come to find
they hold everything you want.
If you put your hands on this oar with me, they would no longer
lift anything to your
mouth that might wound your precious land-
that sacred earth that is
your body.
If you put your soul against this oar with me,
the power that made the universe will enter your sinew
from a source not outside your limbs, but from a holy realm
that lives in us.
Exuberant is existence, time a husk.
When the moment cracks open, ecstasy leaps out and devours space;
love goes mad with the blessings, like my words give.
Why lay yourself on the torturer's rack of the past and future?
The mind that tries to shape tomorrow beyond its capacities
will find no rest.
Be kind to yourself, dear- to our innocent follies.
Forget any sounds or touch you knew that did not help you dance.
You will come to see that all evolves us.
If you put your heart against the earth with me, in serving
every creature, our Beloved will enter you from our sacred realm
and we will be, we will be
so happy.
– Rumi, From 'Love Poems From God' by Daniel Ladinsky.
With so much love,
Erin
Tai Chi In The Park is open for registration today!! Details are below. Don't miss this annual offering!
We'll be hosting such a gathering at our home offices 

on Sunday

, May, 6, starting at 

8 a.m.

for a morning of Embodied Meditation. Want to join us? No experience required. We're not fancy – no matching cushions and unfortunately, no giant Buddha statues. :) You'll walk in through our yard which will likely be strewn with toys. Yet you'll be warmly welcomed and supported in a quiet and peaceful place to connect with your most sane, grounded, spacious, embodied, kind, authentic self. Email us if you want to come and we'll send specific details. Offered, as always, by donation. You are warmly welcomed to join us!
The next Tending the River of Grief Ritual will happen early on Sunday, May 27th, of Memorial Day weekend. Mark your calendar if you'd like to join Erin. More details coming soon.
A day of Embodied Sitting Meditation at Two Arrows Zen Center with Erin & Carl on 

Saturday, June 2

. Details forthcoming!!! We are so excited for this!!!!
You'll find even more updates at the very bottom of this email. Please check out our upcoming offerings.
Our dear friend and mentor, Russell Delman, will be returning to SLC! He'll be offering a free talk at the downtown library on 
Friday, May 11th at 7 pm
, sponsored by the 
Jung Society of Utah
.  He'll then be offering a workshop, 
Embodying Gratitude and Perseverance in Challenging Times
, 
Saturday 
and 
Sunday, May 12-13th
 at Vitalize Studio. Generously, Russell is offering members of the Jung Society 1/2 price tuition! You can read more about it and register 
https://www.russelldelman.com/180512_embodied-life-seminar.html
 here. He's a kind, grounded, clear presence, and such a gift, especially during these challenging times.
Read a new interview the Jung Society did with Russell right here. 
Don't miss a single post. Sign up here to get them delivered straight to your inbox.