A note from Erin
Dear brilliant heart friends,
I'm thinking of you all with each breath, sending love and care your way.
Above is a photo of a little shrine I made with a stone representing each woman in my local group, Women Embodied.
We've each made one in our own unique ways, holding each other and our circle in care. We did this before the news of Covid-19 spread.
I wish I could make a giant one with a stone for each of you. I'm holding you in my heart.
I want to let you know about a free online class I'm offering tomorrow, Sunday, March 15th at 10 am Mountain Daylight Time. Click here to calculate your timezone. 
I'm so grateful for the support of our embodied practices, especially at times like these, and if they might be helpful to you, I'd love to share and to make a place where we can come together and lean into loving kindness and embodied presence. (Details on joining are toward the end of the email.) 
Our family is on self-quarantine to try to help flatten the curve of this viral spread. Today is day 3 and we are relishing this slow time together, cooking, planting seeds in the garden, eating meals together, reading, writing, and more. We had our first little virtual cocktail party with a few friends on Zoom last night which was delightful! We're looking forward to finding creative ways to stay connected with community and family while we keep our physical distance for the benefit of all.
As Stephen Levine writes in one of my favorite poems:
"Don't you know that with all your fear and anger, all you are fit for is Love?"
What if together, we pause right in this moment, maybe put a hand on your heart, take a deep breath followed by a very complete exhale, and say, "Sweetheart, I care about your stress and your suffering"? Oh, just that. Again and again. We can give this to ourselves and each other. So simple. So necessary.
We can meet our fears with love. We can do this without sending our fear and stress into exile or going to war with them by imagining Love as some kind of opposite of fear. It's not the opposite. Your heart is big enough to embrace with kindness exactly what is here. Let's practice doing that, breath by precious breath. I know there's a lot of hard things for many right now – a friend who is grieving that she can't visit her father in hospice; health care workers kept up at night counting ventilators and preparing for the worst; folks without enough resources during easier times struggling. There's also much beauty. Here crocuses are in bloom, robins are returning, expressions of kindness and generosity are blooming as much as is fear.
These bodies and minds of ours can be such potent allies in times like these!
During our 90-minute call tomorrow, I'll share some practices for:
* getting grounded and rooting into embodied presence
* calming your nervous system
* deepening your kindness toward your inner life, whatever is going on
* some heartening poetry, because we always need that
* boosting your immune system with embodied practices
* and coming together in a community of care
We'll end with a guided Feldy lesson – all you need for that is a comfy spot on the floor as well as curiosity, willingness to slow down, and some room to move a bit. No experience is necessary to join this call. Any kindhearted folks are welcome. (Details on how to join are below.)
Please know that we are here for you. 

Please consider staying home if at all possible so we can all help do our part to "flatten the curve" for the benefit of all. Taking every precaution possible is not panicking nor overreacting. It can be an expression of grounded care. And while it may seem counterintuitive, we must do this right now *before* it grows further. Please do not wait until you know you've been exposed. Every time I see someone canceling an event I heave a sigh of gratitude! I know it's hard and disappointing in many ways. But it will be easier in the long run. If you don't know what I'm talking about, please read up on flattening the curve. 

 Take care of your precious self and your community. As Mari Armstong-Hough wrote: "You won't ever know if what you did personally helped. That's the nature of public health. When the best way to save lives is to prevent a disease rather than treat it, success often looks like an overreaction." As our U.S. president is handling this crisis with a criminal level of incompetence, we need to do everything we can to take care of each other. I see so many good people around me acting with generosity and care in so many creative ways. Let's allow this crisis to unclog our brilliance and spark our courage to act for the benefit of all Life.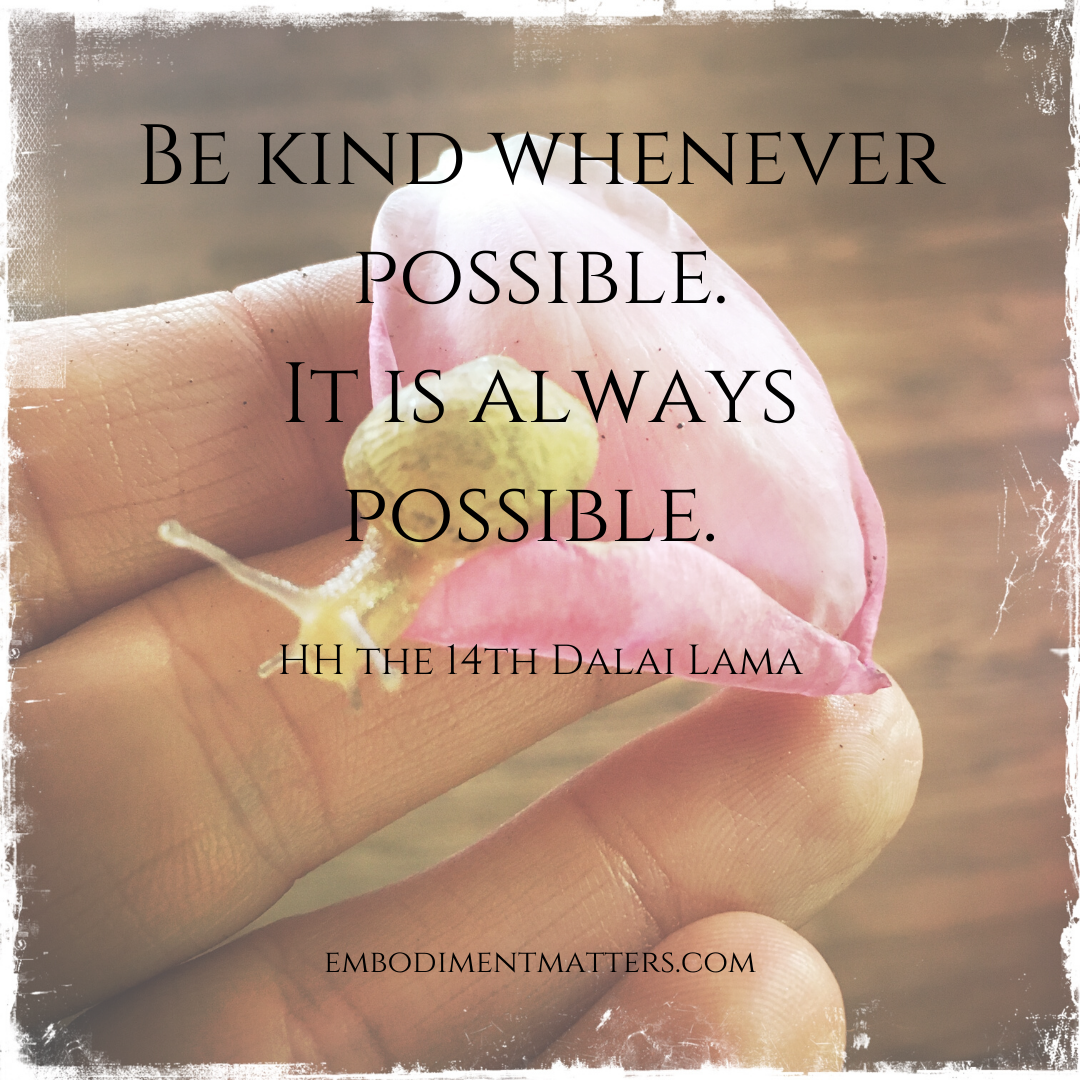 We'll be sending out an email early next week with an invitation to join our online Embodiment Lab for a super discounted price (and that includes those already subscribed.) It may seem crazy to lower our prices at a time when we're going to be losing money by not seeing in-person clients, but really, we want to do whatever we can to help and we find these practices are made for exactly these times! More to come soon. We always offer several scholarships at a pay-what-you-can rate, so if our discounted rate is still too much, don't let that be an obstacle to this work. We're here to support you to stay as embodied, grounded, sane, and kind as possible through troubled times and beyond. The world needs us to be so.
As Thich Nhat Hanh wrote, "I am inviting you to go deeper, to learn and to practice so that you become someone who has a great capacity for being solid, calm, and without fear, because our society needs people like you who have these qualities, and your children, our children, need people like you, in order to go on, in order to become solid, and calm, and without fear."
We can be these people. We're lucky to carry many potent practices that really help!!
In addition to the free class on Sunday morning, this Wednesday evening – shall we have a poetry party!?
I've been leaning on the wise voices of the poets as long as I've been teaching – more than 25 years now – and wow, we are so rich in excellent poets! Please come to this online gathering and if you have a favorite poem to share, bring it. Bring several if you like. If you just want to come to listen and be showered in beauty, wonderful! You're most welcome.
One of the great boons that comes from reading poetry, I find, is that in crazy times as well as in lovely times, these gorgeous wise lines float through my mind. How nice to have wise counsel to pay attention to rather than the neurotic thought patterns that might arise in a time like this. Here's an example. Yesterday I was sitting and remembered that Rumi says, "Inside the chaos, build a temple of love." We can do that!!! We really can. Right now, we can meet this very moment with as much love as possible.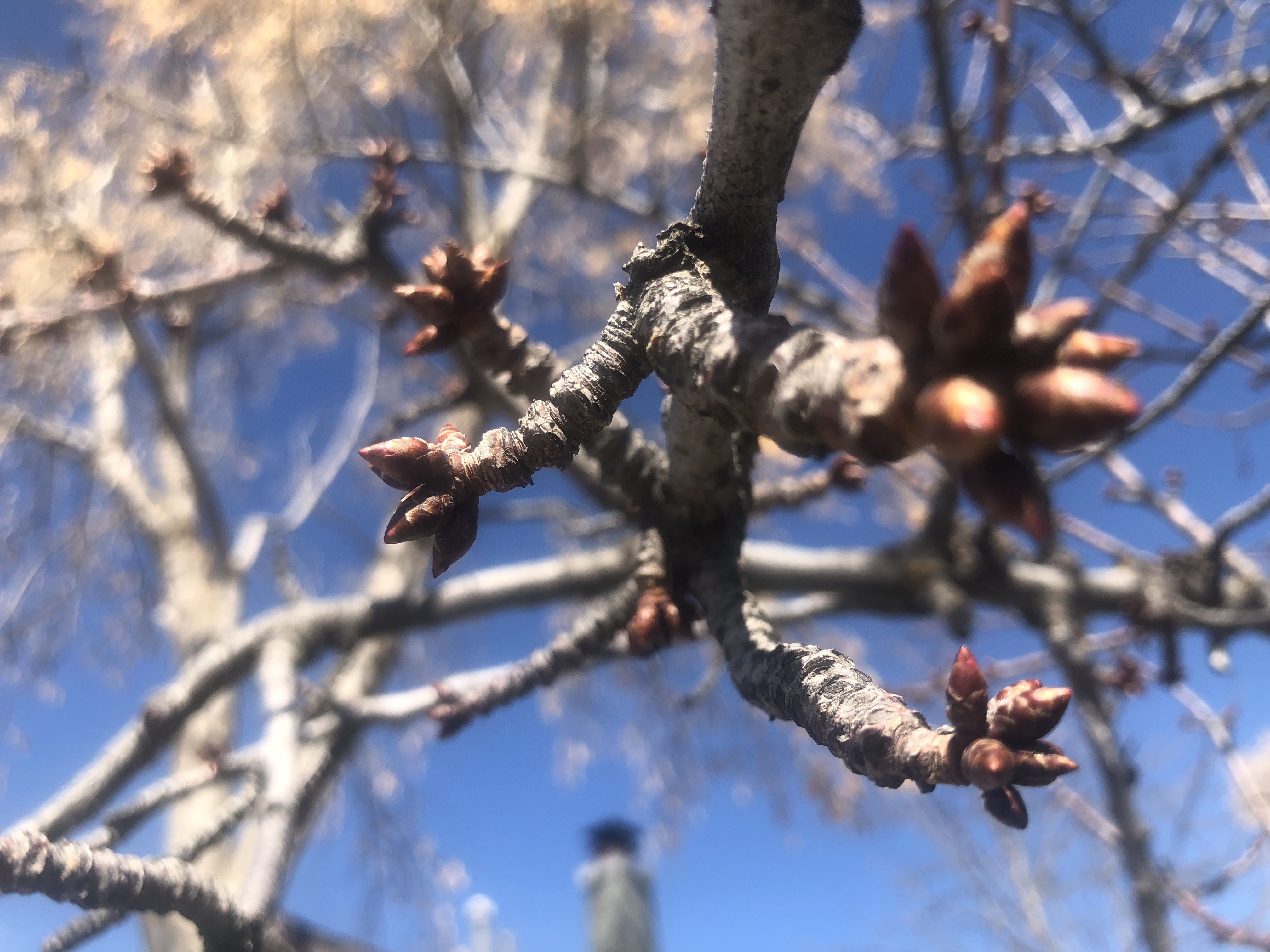 As David Whyte writes:
"This is not
the age of information.
This is not
the age of information.
Forget the news,
and the radio,
and the blurred screen.
This is the time
of loaves
and fishes.
People are hungry
and one good word is bread
for a thousand."
Let's gather to break the bread of good words. 
Physical distance doesn't have to mean social distance.
We'll have more invitations to come soon.
And if there are more ways we can be of support, please let us know.
We're in it together, in sickness and health, and we are so so grateful for you, our local and global community.
Much love,
Erin
Below is a gorgeous and timely poem shared by my Facebook friend Lynn Ungar on Wednesday.
Of all the things to "go viral" – may it be love, kindness, and poetry!!
Pandemic
What if you thought of it
as the Jews consider the Sabbath—
the most sacred of times?
Cease from travel.
Cease from buying and selling.
Give up, just for now,
on trying to make the world
different than it is.
Sing. Pray. Touch only those
to whom you commit your life.
Center down.
And when your body has become still,
reach out with your heart.
Know that we are connected
in ways that are terrifying and beautiful.
(You could hardly deny it now.)
Know that our lives
are in one another's hands.
(Surely, that has come clear.)
Do not reach out your hands.
Reach out your heart.
Reach out your words.
Reach out all the tendrils
of compassion that move, invisibly,
where we cannot touch.
Promise this world your love–
for better or for worse,
in sickness and in health,
so long as we all shall live.
–Lynn Ungar 3/11/20
p.s. Russell Delman has canceled his visit to SLC this spring due to the Covid-19 situation for the safety of all. We'll keep you posted on rescheduling this event!
Below is info on how to join the two calls I'm hosting this week. Hope to see you there!
Erin Geesaman Rabke is inviting you to a scheduled Zoom meeting.
Topic: Embodied Support for Trying Times
Time: Mar 15, 2020 10:00 AM Mountain Time (US and Canada)
Join Zoom Meeting
https://zoom.us/j/587372942…
Meeting ID: 587 372 942
Password: kindness
One tap mobile
+14086380968,,587372942# US (San Jose)
+16699006833,,587372942# US (San Jose)
Dial by your location
+1 408 638 0968 US (San Jose)
+1 669 900 6833 US (San Jose)
+1 646 876 9923 US (New York)
Meeting ID: 587 372 942
Find your local number: https://zoom.us/u/az5XZEIxF
Erin Geesaman Rabke is inviting you to a scheduled Zoom meeting.
Topic: Poetry Party!
Time: Mar 18, 2020 07:00 PM Mountain Time (US and Canada)
Join Zoom Meeting
https://zoom.us/j/235721588?pwd=RjQvTzhZTkxaVU9YWjhYcVhqem1xZz09
Meeting ID: 235 721 588
Password: love
One tap mobile
+14086380968,,235721588# US (San Jose)
+16699006833,,235721588# US (San Jose)
Dial by your location
+1 408 638 0968 US (San Jose)
+1 669 900 6833 US (San Jose)
+1 346 248 7799 US (Houston)
+1 253 215 8782 US
+1 301 715 8592 US
+1 312 626 6799 US (Chicago)
+1 646 876 9923 US (New York)
Meeting ID: 235 721 588
Find your local number: https://zoom.us/u/az5XZEIxF
With gratitude and love,
Carl and Erin
Don't miss a single post. Sign up here to get them delivered straight to your inbox.