A note from Carl
A couple weeks ago I wrote about my experience doing bodywork at a retreat with Will Johnson exploring the posture of meditation. The 3 series of hands-on Structural Integration sessions that we offered participants had such a profound impact on the ease, the uprightness, the liveliness and settledness of the people sitting for long hours over the course of the week. I am delighted to be able to offer this 3-series, along with some additional Feldenkrais explorations that Erin and I have been working with specifically around sitting, to our local community.
This series of sessions and movement lessons can help to bring ease, natural uprightness, embodied presence and resilience to your sitting- whether that is for a mediation practice, or in the various contexts of sitting in your life- at the computer, in the car, playing an instrument etc. Though the principles of this series are similar whether you are doing it to improve sitting meditation or sitting in general, there will be some different aspects emphasized depending on what you want to work with.
There is saying that sitting is the new smoking, and there have been studies that correlates morbidity and the amount of time one spends sitting.  I think that one key element is missing from this perspective. It is not sitting that is the problem- it is how we sit. We all know how it is to sit schlumped forward toward a computer, mostly absorbed in our heads or in the project we are working with, with no sense of our body until we get up and feel the creaking of joints or tenderness in the back or neck.
What most of us are not so familiar with is a way of sitting that has natural ease, where we are supported by the frame of our skeleton, with a grounded vitality and an effortless uprightness, where the breath can move freely through the torso, and we can inhabit our whole body with our presence. That kind of sitting is not the new smoking, it is the new vital way of sitting, and it can have a huge impact on how we sit at the computer or on a mediation cushion.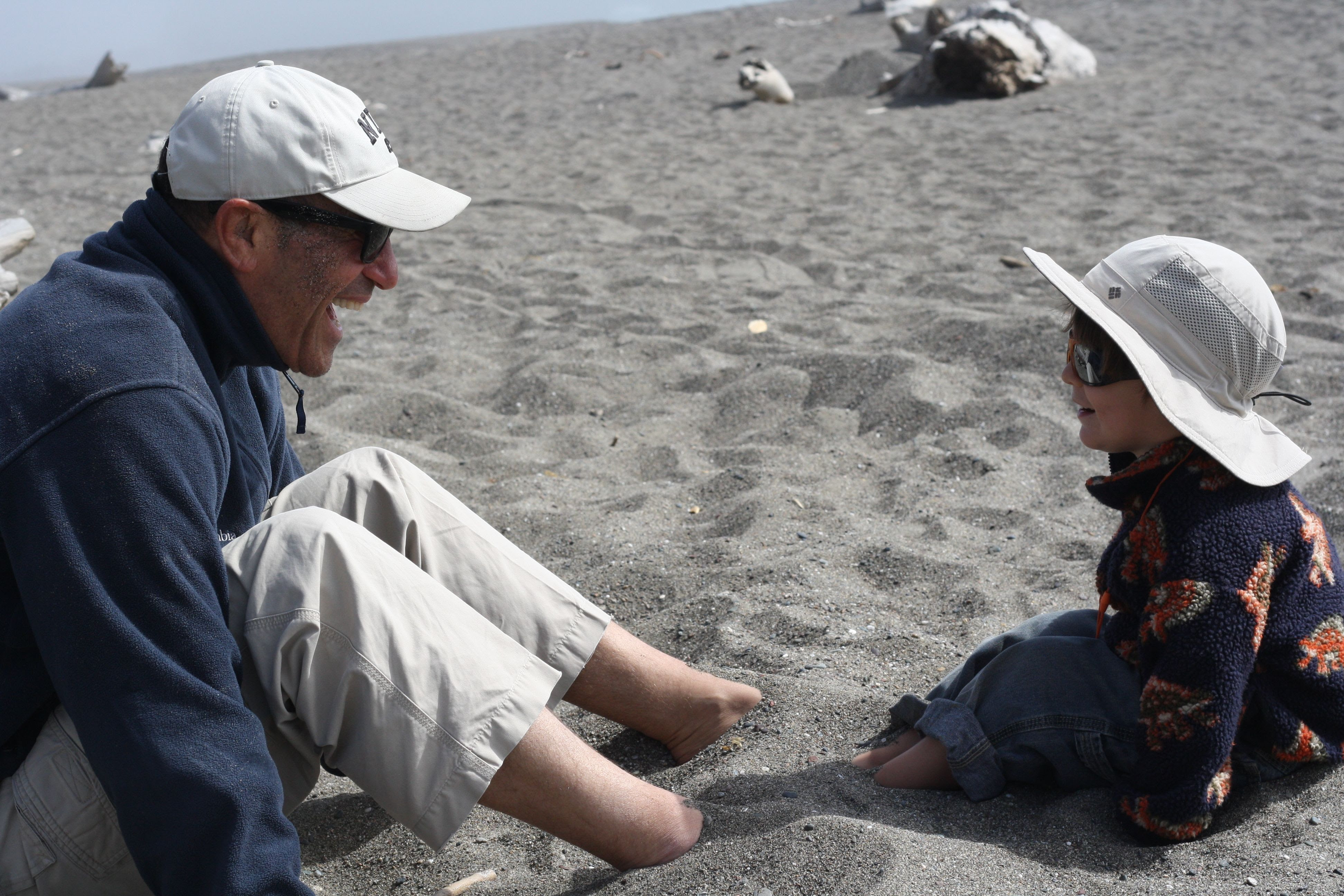 Russell Delman and Mesa showing how easy sitting is possible at any age :)
This three-session-series addresses many of the places where we tend to carry tension or shorten ourselves in sitting including the shoulders, the neck, the jaw, the low back, the psoas area, hips, knees and ankles.
We will also work with ways of refreshing our uprightness when we naturally lose it.
Some inquiries we will explore:
-How to become more aligned with the pull of gravity.
-How to sense alignment and make micro adjustments from the inside. (Rather than quickly pulling your shoulders back when you see a photo or your reflection.)
-How to inhabit your lower abdomen (hara/ tan dien) in sitting.
-How awareness of your sit bones, your hip joints and your ribs can help reduce much of the tension in sitting.
-How uprightness comes not from effort, but through relaxing areas that pull us out of alignment.
This series will be available to sign up for until September 25 and the sessions can be used anytime in the next year.
For this series, it is ideal to schedule all three sessions with 1-2 weeks, as each session supports the next.
Cost $350 Click here to register.

I look forward to sharing this deep inquiry into sitting!
Carl
Please feel free to contact me if you have questions. (Carl@embodimentmatters.com)
Don't miss a single post. Sign up here to get them delivered straight to your inbox.