A note from Carl:
Dear friends,
I am sitting with the laptop at our local Red Butte Garden Arboretum, surrounded by countless blossom smells and birdsongs. It's so good to be alive!

Meditation teacher, Tara Brach, describes three fundamental qualities that she has witnessed in people who have unfolded and matured over years along a path–regardless of the techniques or tradition they practice.
The three qualities she describes are relaxed, interested and caring.
I love to keep these qualities close, and to check in with them frequently.
How is my relaxation?
Is there anywhere I can release unnecessary tension? In this moment, as I am typing, I found something in my right shoulder that let go a little, something in my lips and jaw relaxed. I can ask this question 1000 times a day, and each time find somewhere that can let go a little bit.
Also, can I find any more relaxation in how I am holding situations in my life?
Erin uses the term "No big deal mind."
When I am in Big Deal mind, I and my problems seem like a very big deal. When I relax into no big deal mind, or more of a play-mind, the problems often shift to challenges that might need attention and care but are much more workable than Big Deal mind thought.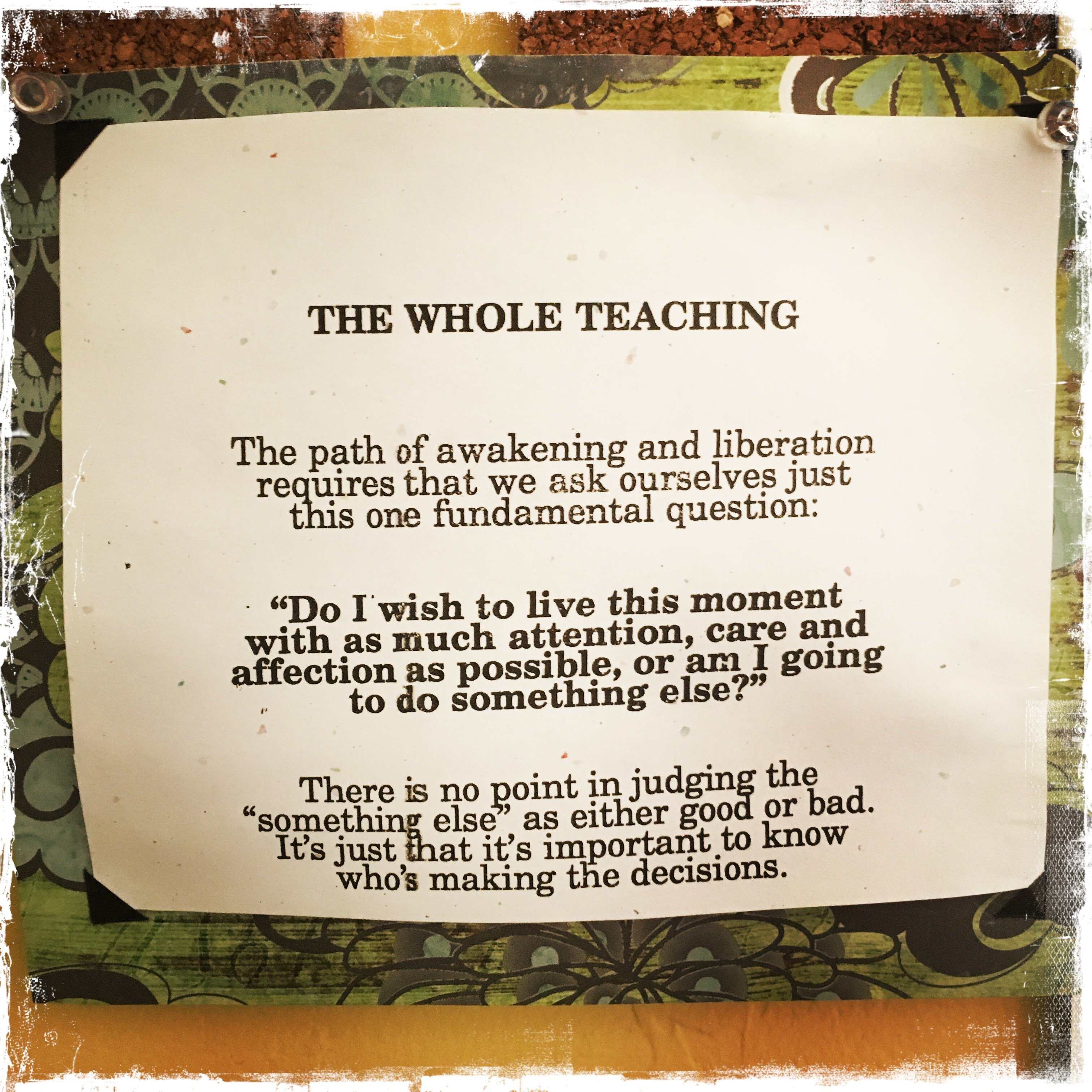 the above question comes from Scott Morrison
How is my interest and care?
I write these two together as they seem so intimately connected. I am reminded of the poem from Hafiz,
How
Did the rose
Ever open its heart
And give to this world
All its
Beauty?
It felt the encouragement of light
Against its Being.
Otherwise,
We all remain
Too
Frightened
Can I give my full interest and care to the moments and situation in my life?
My attention is that encouragement of light that Hafiz describes. As David Whyte writes, "When you pay profound attention, profound things can happen."
A few months ago, just before I heard the news of Mary Oliver's passing, I was writing a newsletter about a conversation that a journalist had with Mary Oliver. When the journalist asked Mary how she could cultivate such a richness of attention, her response was, "I always keep the appointment."
If there is an appointment that I want to keep, it is with these qualities.
Can I check in with my relaxation, interest, and care when I am doing my taxes? Getting out of bed? Sitting on my meditation cushion? Reading the news? In the morning dash of lunch-making, dressing, and breakfast before getting our son out the door for school? Checking my email? Walking in a canyon? There is no situation I can imagine where tuning to these qualities would not be helpful.
Along this theme today, I want to offer two poems and a guided practice that support deepening relaxation, interest and care.
The poems are from Willam Stafford, and our friend Brooke MacNamara's amazing poetry collection, Feed Your Vow.
The practice is a guided audio from Erin on Awareness Through Stillness (you can listen here.)
We are so excited to be offering more practices like this, along with Feldenkrais lessons and guided meditations as we begin our monthly online Embodiment Lab this summer! And speaking of the profound interest and care of Mary Oliver, there is still time to sign up for Erin's online class, The Art Of Attention, A month of invitations inspired by the poetry of Mary Oliver. It's going to be such a gift.
an excerpt from Discipline and Roaming Free
by Brooke MacNamara
Once mind is remembered
to be infinite
the difference between discipline and roaming free
is nothing.
We become empty
enough to be filled
with rich freedom-responsibility of being and serving
all of it
and just this one
at once.
I feel my feet
on this hardwood floor and breathe you in.
We make and discover each other, always only in this moment.


You Reading This, Be Ready
William Stafford
Starting here, what do you want to remember?
How sunlight creeps along a shining floor?
What scent of old wood hovers, what softened
sound from outside fills the air?
Will you ever bring a better gift for the world
than the breathing respect that you carry
wherever you go right now? Are you waiting
for time to show you some better thoughts?
When you turn around, starting here, lift this
new glimpse that you found; carry into evening
all that you want from this day. This interval you spent
reading or hearing this, keep it for life –
What can anyone give you greater than now,
starting here, right in this room, when you turn around?

Wishing you well, and thanks for reading,
Carl
Don't miss a single post. Sign up here to get them delivered straight to your inbox.