A note from Carl
Dear Friends,
We find ourselves in such unprecedented times.
We dearly hope you are healthy and well as you read this note. I've got some reflections to share and want to let you know that you'll find information further down on a few upcoming offerings, all free or by donation:
On the afternoon of 4/18 we're hosting Gratitude, Grief and Going Forth: An Online Gathering To Invite A Wholehearted Response
On the evening of 4/21 Erin is co-hosting a virtual grief tending ritual with 3 amazing women.
And Erin is one of many teachers contributing to the Move Better Feel Better Feldenkrais Awareness Summit. Free lessons begin soon and the official summit begins on May 1st.
Details on all of these are below.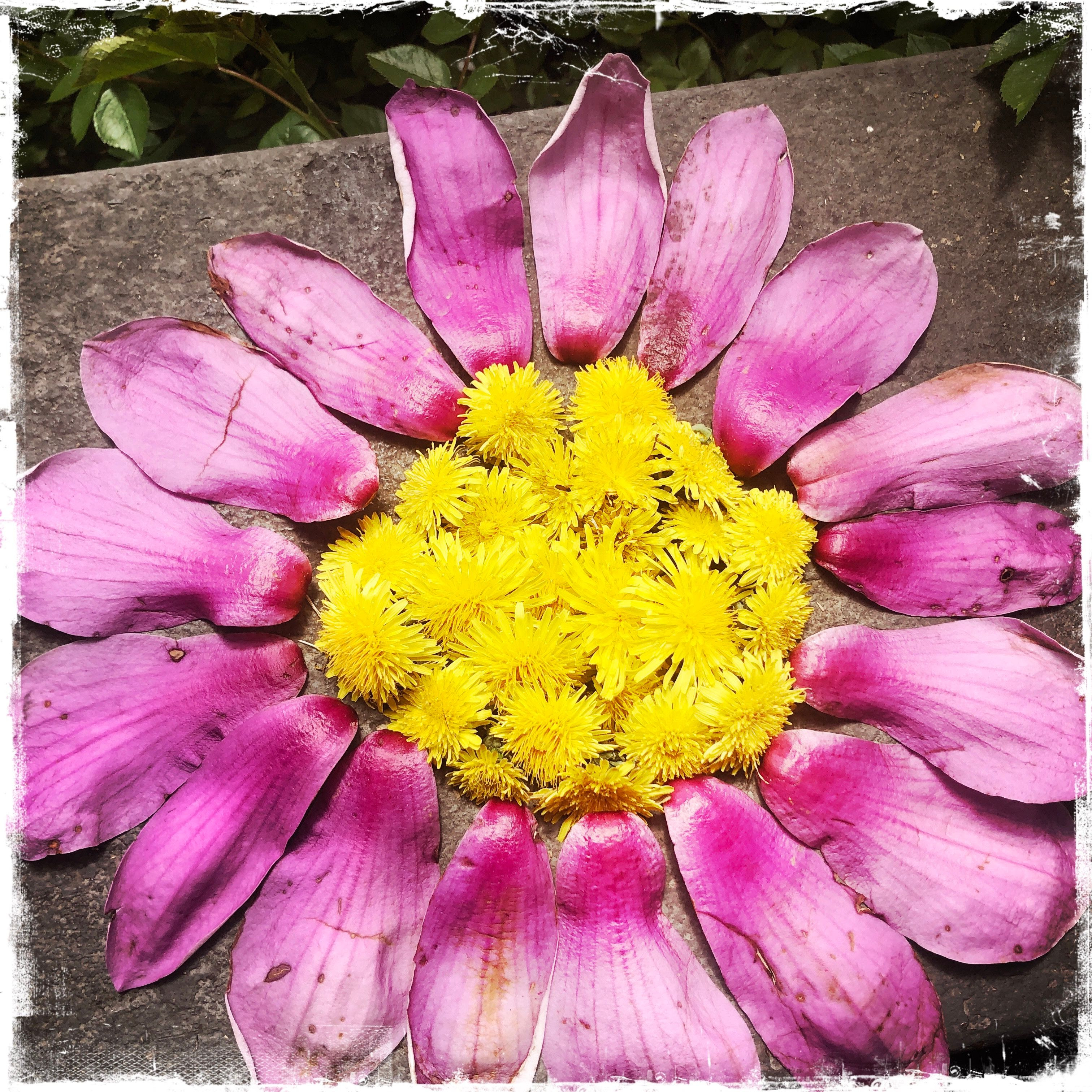 "We will not arrive intact." – Bayo Akomolafe
The global challenge of Covid-19 has brought all us together into a shared initiation.
In many ways, we have already been, and currently are in a world-wide initiation with the climate crisis, or more aptly described "the human behavior crisis." But there is something unique about the swiftness and borderless nature of this situation, the sudden withdrawal into distancing from other humans that heightens the sense of the imminence of initiation.
Traditional initiatory process is often described in three stages:
a severing or separation from what is known,
some kind of challenge and ordeal,
and then a re-integration, a return with new perspectives, and a new sense of identity, a new way of knowing that unique and that is acknowledged by the community.
We have been separated – from each other, from our routines, for some of us from our income, some are separated from their health, or from loved ones who are ill or have died. We are severed from life as we know it.
And how unprecedented it is that human beings across the planet are drawn together in this liminal space!
In her book, belonging, Toko-pa Turner describes initiation in this way: "Nobody goes willingly into initiation. By its very nature, initiation is a humbling of the will. It comes as a tsunami would, wild with nature shattering us on all levels. And although every part of us may mount resistance to being changed, we are not meant to emerge intact. We are not meant to re-cover what has been revealed. Rather, we are meant to be disillusioned, dissolved, disappointed before any thought of rebuilding can begin."
We are not meant to emerge intact.  
This feels so important. And it is hard, both individually, and as a collective, to linger in not-intact.
One of the most common questions being asked is "When will things return to normal?" We certainly don't know, and this pause offers us a potent opportunity to consider what parts of "normal" we want to return to, both as individuals and as a culture.
The entire human population of the world is in some kind of pause. What potential there is for imagining different possibilities of being on this Earth together!
So what qualities of attention do we bring to this liminal space we are in when it can be easy to forget Who am I? What am I doing here? What day is it?  
It is a ripe time for compassion; to give ourselves and those around us a wide birth of acceptance and warmth, and not to hold too strong of an agenda for any particular way of being.
Is it Netflix you need? Sleep? Time in nature? Ritual Practice? Gardening? A phone call? Exercise? A glass of wine? Poetry? Prayers? To sing at the top of your lungs? To weep? More Netflix? It is such a powerful choice to allow ourselves to be just as we are at any given moment and to follow the thread of what is needed.  As we say in the Embodied Life work, we practice bowing to what is and finding the most life-giving relationship with it.
While there are no right ways of being in these times, two qualities that have always felt essential (and now even more so) are grief and gratitude.
As Francis Weller says, "The task of a mature human being is to hold grief in one hand and gratitude in the other and be stretched larger between them."
It feels like we are being called to be stretched larger between these two qualities every single day. Are you feeling vast yet?
In these last weeks, the impermanent nature of things has been so intimately evident. We really don't know who will be healthy or alive next week.
We can know impermanence intellectually, but when we feel it our bones, in our hearts, in our guts,  it can foster such deep gratitude. Can we be touched by the beings and things that are still in our life right now?  Can we savor the beauty and wonder and fleetingness in each new spring blossom, each conversation with a loved one, even each Zoom call?

Gratitude and grief mirror each other and deepen each other in many ways.
Gratitude gives us ballast so we can more deeply touch the grief we are carrying. And friends, there is so much to be grateful for and so much to grieve, and so few of us have been taught how to be with our grief.

In all of this, in the joy and ache of it all, experiencing ourselves embedded in a community and deeply listening to each other is essential. Especially now as many of us are physically distanced from our communities.
In traditional initiations, the third, essential phase of integration includes being welcomed back by the village, being blessed and recognized as different, as carrying some unique medicine.
Who welcomes us back when we are all in this initiation together?
Well, it must be us.
As we arrive, not-intact, can we ask each other:
What has changed?
What are you seeing with new eyes?
What is an emergent story you are holding?
What is a story you have dropped?
What medicine are you bringing?
What is the most important thing for you now?
May this initiation move us in the direction of the more beautiful world our hearts know is possible.
We are looking forward to holding a space this Saturday from 1-4:30 pm Mountain Time, where we can come together as a community online to explore Gratitude, Grief and Going Forth. You can find more details below. We would love to have you join us. You can register by making a donation of any amount and once you do we will send you details on how to join us on Saturday.
With love,
Carl and Erin
A few more offerings we're thrilled to share:
Erin will be cohosting a virtual community grief tending ritual along with 3 incredible women this coming Tuesday night, April 21st, from 7-9 pm Mountain Time. It will be shorter than the virtual event we're hosting on Saturday and will primarily make space for grief-tending (rather than the spiral of gratitude, grief & going forth.) Both are so useful!
Details here:
In this wild time of unprecedented disruption and uncertainty, with the COVID-19 virus sweeping the globe and taking the lives of many, there is grief work to be done.
The pandemic is creating huge loss; not only of human lives, but financial loss, loss of stability as we knew it, loss of normality and a sense of safety. The old world we knew is dead.
We are in the thick of a collective rite of passage — where one way of being is dying and the new way of being is not yet born.
Tending to Grief, both personal and collective, is critical in this time. Without grieving, our hearts are not clear to hear what wants to be born. This virtual community grief tending is a time-honored ritual gathering that is relevant for these modern times. The work we do here is not only for ourselves, but for everyone around the world.
Join us online for circle of deep listening and sharing, to acknowledge and honor our grief, personal and collective in this time of Corona. To register, you may make a donation that we will send to funds supporting Native American families in our bioregion.
We'll then send you a Zoom link and password. (please note that if you make a donation, we will send the Zoom info to the e-mail you use for Paypal. If you want the link to be sent to a different address, please let us know.)
Cohosted by  Erin, Kinde Nebeker, Michelle Marthia, and Allison Ottley
Also, Erin is teaching in a wonderful upcoming online summit, organized by our friend and Feldenkrais colleague Cynthia Allen. It's Move Better, Feel Better: The Online Feldenkrais Awareness Summit. Erin is presenting on a topic that lights her on fire and that is so vitally important:  Embodiment, Ecology & Compassion: An Integrated Spiritual Approach To Our Times. 
You can sign up here. 
from Erin:
I'm thrilled to be a part of an upcoming high-quality free online offering: Move Better, Feel Better: The Feldenkrais Awareness Summit.  If you sign up now, you'll have access to many free Feldy lessons happening for more than a week before the summit begins! I'll be teaching a short lesson on the 27th.
There will be many free movement lessons, inspiring presentations, panel discussions and so much more. My presentation is on something dear to my heart – Embodiment, Ecology & Compassion: An Integrated Spiritual Approach To Our Times. I'll also be offering an invitation to a free online course, Root & Rise, to participants in this free online gathering. In addition, along with many other Feldenkrais teachers from around the world, I'll be teaching a free, live online Feldy lesson during the week before the summit. I am so excited!  You can sign up right here.  I hope you'll join me!!
We're gathering on the afternoon of April 18th from 1-4:30 pm Mountain Time in an online healing community circle to make room for all that we're carrying in our hearts and to feel how not-alone we are.
We deeply believe in the power of an intentional community coming together to practice being human, including movement and stillness, including quiet and connection, including gratitude, grieving, and visioning how we might bring our unique perspective and gifts to co-create the better version of the world we wish to see manifest.
It is important and necessary work that we cannot do alone.
What we won't do in this gathering is stand in front of you and talk and talk and feed you a bunch of information as if we're the expert on what you need.
What we will do is invite your fully embodied presence, the wisdom and confusions, blessings and aches, gratitudes and burdens, hopes, dreads, visions, creativity, and unique gifts to come more clearly into awareness and then be shared in a healing community, so you're not carrying it all alone.
The potent, buoyant power of a compassionate community circle can't be overestimated! People are always blown away and tell me this is the thing they miss the most between classes, between grief rituals, between workshops. We feel so lucky and blessed by the quality of humans who come to our classes. In a recent workshop, a new attendee said, "Wow! You have really great students!" We agree. They're real, authentic, goodhearted human beings. That's the biggest blessing.
We're going to make space to come together.
We'll guide an embodied grounding practice.
We'll begin with sharing the blessings and gratitude and the beauty that is essential ballast for us right now. We'll do a wonder-circle and an embodied gratitude practice so we can really feel and receive in our bodies what's *not* wrong.
We'll take a little movement break.
Then we'll have an opportunity to slow down, to feel and name and honor what's heavy on our hearts, and to share about it in a gentle, respectful, kindhearted community. We'll do a mini virtual grief-ritual together. Then what felt like "my" grief becomes "our grief" and we hold it and feel held, together.
After another little movement break, we'll pause to take some fresh perspectives on what's unfolding in our lives and invite some clarity to come forth to guide us as we return to our life at the end.
We'd love to invite you to join us for this unique community gathering.
We're inviting you to make a donation of any amount to register for this workshop. The only stipulation is that we ask you to be there the whole time. For this kind of work, it won't do to have folks popping in and out.
You can donate any amount to claim your spot here. 
Once you register, we'll send you all you need to know to show up for this community gathering on the 18th. We're so deeply looking forward to it.

Thank you for being a part of our lives and our community!
Carl and Erin
Don't miss a single post. Sign up here to get them delivered straight to your inbox.