A note from Erin:
Twice this year, I've had the privilege of being on retreat with wise elder, Deena Metzger. Many people recognize her from this iconic photo from years ago. She's a tiny and mighty woman with long white hair and a powerful presence. I love her and am so grateful to have her as one of my mentors.
Deena on her land
Toward the end of the first retreat I did with her, another participant, Belle, asked a heartfelt question. "Deena, what you've offered us is so powerful. I had an image of you giving me a key. Would you be willing to enact that as a ritual and go around the circle and give us each a key?" There were 18 of us in the circle. Deena listened quietly to the request. I was surprised by her emphatic response. "No," she said. "It would be ridiculous for me to pretend that I can give you a key to anything. But here's what I can do." And she picked up her singing bowl, took the striker out of it, held it in her hands like a begging bowl, and approached Belle, like a humble beggar. She stood before her, looking deep into her eyes and said, "There is so much suffering in the world. I care about it so deeply. I can't heal it or fix it by myself. Will you help me?" Belle nodded with tears in her eyes. In fact, as I write, I'm surprised that my heart is pounding a little faster and tears are welling in my eyes. I remember the moment she stood before me. She came around to each of us, one by one, and it's as if I feel her now, looking at me with that level gaze and sincere heart…. "There is so much suffering in the world. I care so deeply. I can't heal it by myself. Will you help me?" Now tears are streaming down my cheeks. Today, I want to come to you with Deena's begging bowl. I have no key. There is so much suffering in the world. I care so deeply about all of it.  No one of us can meet it alone.
Will you help me?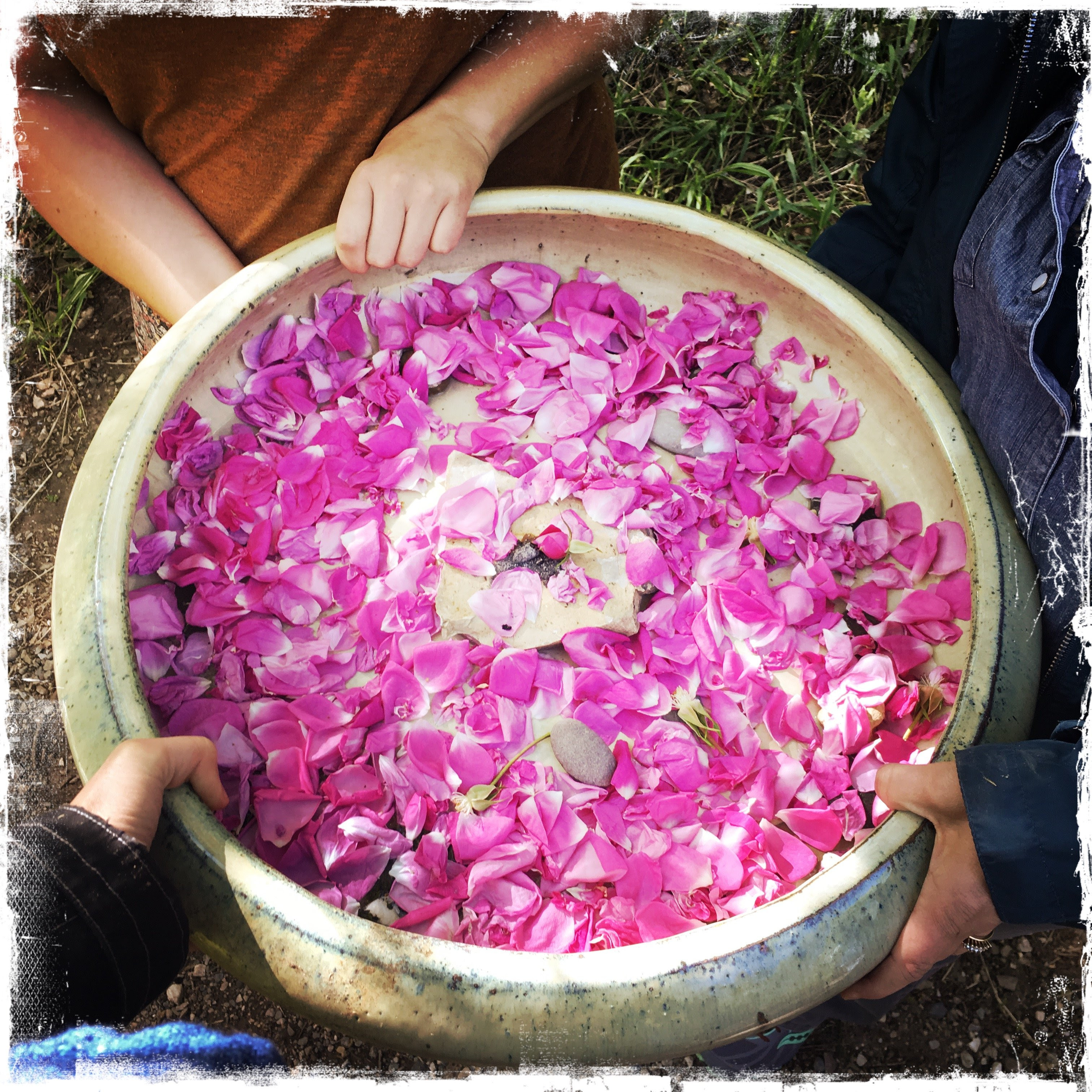 the bowl used at a recent grief and gratitude ritual
This week I've listened to a few conversations I've found really touching. One was a recent episode of the podcast OnBeing where Krista Tippett interviews civil rights icon, Ruby Sales. She has such a generous-hearted view of our situation, informed by "hindsight, foresight and insight." I found her words so wise, engaging, comforting.
I watched a Ted talk by a black man who went undercover into alt-right online spaces. His perspective is powerful.
I also listened to a live conversation with three wise people of color, Rev. Angel Kyodo Williams, Lama Rod Owens, and Jasmine Syedullah, Ph.D., looking at race and liberation from a Buddhist-informed perspective.
So many parts of these conversations were touching, moving, disturbing, and settling all at once. One particularly moving statement from Williams was this. (It's my attempt at a re-iteration of her statement.)
"Society will always reflect the consciousness of its members. Many of us are asking the questions about how we can show up in the world in a way that doesn't make sense. Many of us haven't yet developed a practice within ourselves of embodying those qualities. Or perhaps we haven't developed our practice to maturity. We often treat our spiritual practice as the side-gig, but really, it's the whole enchilada, the foundation of the way wisdom arises through us. The question of the relationship between spiritual practice and courage is a reorientation: What is actually important to you? That will become fortified and refortified and refortified through one's spiritual practice, whatever that is – prayer, meditation, whatever –  that is moving you toward greater liberation. I would say if your practice is not attenuating greed, hatred and ignorance, you need to change that practice. If it is – then develop it into maturity so it continues to clarify your sense of what is important. What we relate to as courage has much more to do with the clarification of what is important. What do we put our bodies on the line for? We are presenting our exposed heart to what is deeply important to us. As that becomes clearer and clearer to us, it becomes unmoving or immutable courage."
I must say that during these crazy times, nothing I write feels adequate. Nonetheless I'm inspired to share these words with you today. I hope they help.
I'm a lover of good questions. In closing, I'll offer a few that are potent in my own life.
I see Deena in front of me asking: "Will you help me?" 
What is most important to me?  
How do I want to show up in the world, whether that's on my own meditation cushion, yoga mat, work meeting, family dinner, or political protest? 
Can I forge true courage rooted in integrity and the clarity of what is important to my own deepest heart?

Can I then embody that across contexts in the world? 
Can I forgive myself swiftly when I botch it, as I inevitably will if I'm learning? 
What do I need to do to deepen my self respect?
What do I need to give up in order to be a trustworthy vessel for life to guide me? 
I often close with this but I hope you know it's true:
I'm so grateful we're in it together. Thanks for being a part of my community. 
With love,
Erin
PS I will be holding a grief ritual in a local canyon on the Saturday of Labor Day weekend. Some details:
Over Labor Day weekend I will be hosting a circle for Tending the River of Grief. It will be held on the morning of Saturday, September 2nd. Location (in our local canyons, weather allowing, in my office in inclement weather) will be revealed when you register. Offered by donation. In turn, all proceeds will be donated to a local charity. If no one comes, I'll happily do it alone. I have no agenda and no great hopes, but I'm willing to follow this soul-calling and see what happens. There's a space for you if you're called to join. If you'd like to register to join – it's by donation. Any amount, even $1, will reserve your spot. I'm asking people to register so that I can have an easy way to communicate with all who intend to come. Read more about the inspiration for this event here. 
Register to join me in Tending The River of Grief, Sept. 2, 9am, right here.  
(Please register if you want to receive communication details about when/where the event will take place. It's so much easier for me to respond to registrants than to respond separately to the many emails, texts, facebook messages, etc. Thank you!!!)
Want to go deep into the profound practices of brilliant movement lessons, embodied meditation, and other powerful tools which can help you rewire your nervous system to be more reliably grounded, present, and compassionate? And all this in the context of an inspiring and supportive community? Join us for our once-a-year powerful embodiment course co-taught by the two of us, called Coming Home: To the present moment, mindful embodiment, and your inner teacher. Details below and here.  All genders welcome to attend. It's a very supportive practice of the kind Rev. Williams mentions above.
 We still have some space in our  Ghost Ranch, New Mexico retreat which will include awesome embodiment practices, meditation, and River writing. The Encouragement of Light.  All in Georgia O'Keeffe territory of such inspiring beauty! 

Sept. 21-24

. Details can also be found below. Men and women welcome. It's going to be so awesome!!
Want to do some private one on one exploration of your embodied self through Structural Integration, The Feldenkrais Method, and Embodied Life? Read about working with either one of us privately right here.
Don't miss a single post. Sign up here to get them delivered straight to your inbox.