A note from Erin:
Hello, beautiful human,
14 years ago, I flew home from our Feldenkrais training in Santa Fe to support a dear friend who was giving birth at home. The labor was more than 50 hours. She chose not to transfer to a hospital, bone-tired as she was. Along with her husband, I was honored to hold and support her back as she pushed a gorgeous baby girl into the world. Hours later, after the family was settled and the babe was nursing away, I went to the grocery store to get some nourishment for the family. As I walked among the fluorescent-lit aisles, every time I saw a mother with a child – an infant in the grocery cart, a toddler toddling, I wanted to drop to my knees in reverence for what it takes to birth a child. And we act like this is ordinary!!! It's heroic. It's miraculous. I'm still in awe.
Last weekend, we hosted our dear friend and mentor, Francis Weller, who guided a gorgeous and powerful two-day community Grief Ritual for about 60 people. On the first day, we began introducing ourselves with our name, where we live, and speaking briefly to just one thread of grief that we carry. Hearing just one thread of grief that folks are carrying?! I'm stunned, friends. By what we'd never know people are carrying if we don't ask.  I can see their faces still. From grieving a lack of belonging to a childhood of neglect, to children who've died, to grieving the ravaging of the world, partners with addiction, abuse of all kinds, deaths of many kinds, and so much more. Once again, that evening as I walked among the grocery store aisles picking up dinner items, I wanted to drop to my knees in awe at every single human being I passed. I wanted to offer a hug. How much grief we carry. How we don't usually name it. How there aren't so many places where it is wholeheartedly welcomed and received (though we're aiming to change that.) How we get up and make it through the day anyway. And still we rise. I'm in awe of this being human.
On Monday I was hiking in a local canyon – one of my go-to spots where I've been thousands of times over the past 25 years, and I saw something I'd never seen before. It was the sound that first caught my attention. A throaty call, kind of like a raven's but higher-pitched, and dozens upon dozens of them. I looked up and saw a huge flock of birds, very high in the air. At first in a V formation, I thought they might be geese, even though they sounded different. Then they took a different formation – more like a clump – and circled and circled together. I stood there staring at the sky, my mouth open, in awe of this wild visitation. With the help of friends, I found out the next day that I had witnessed a flock of migrating Sandhill Cranes, which I'd only ever seen before in mating pairs. They're HUGE birds and to see and hear them in a giant flock was, well, miraculous. I'm in awe.
My heart is so very tenderized to this being human. To all we carry. To all the beauty – even all the beauty that we haven't yet experienced.  We contain multitudes and I believe they're all worthy of compassion, respect, and witnessing – or as we like to say, "withnessing."
My interest in grief tending came directly out of embodiment work. At a certain point it felt to me a bit irresponsible to invite people to be more present in their bodies without specifically making a space for the grief – which is often what we're avoiding when we're living in our heads. The community ritual was so powerful – truly beyond words – and we're beginning to coordinate a local Grief Team to make experiences this available here in the future. It also came out of a powerful dream – and I have a sense that it was the ancestors of this land inviting me to follow the thread that ultimately led to hosting Francis last weekend. I'm in awe, humbled and grateful.
Last week I celebrated my 46th birthday and the next day got to take my wonderful mom out to celebrate her 70th. Life is rich.
I have upcoming offering which I'm excited to tell you about which also directly relates to these multitudes we carry.
It's something I believe the world needs and which I wish so many more of us could have ready access to.
When I interviewed my friend Sunny Rose Healey about Ayurveda for our podcast last month, I was struck all over again when she spoke about the deep importance of digestion – and not just digestion of our food, but digestion of our life experiences. For me, the practice of Embodied Listening is absolutely essential to my wellbeing and it is the best way I know of digesting life experiences in an ongoing way. 
These days there is just so much – SO MUCH! – to digest. What's happening in the outer world, in our inner world – it's not small. And most folks I know are busy – and don't take time to be with all that's in there. Is that true for you?
Maybe you have a sense of being stuffed, or even having emotional indigestion. A sense of "too much!" I know I get that and this practice helps me SOOOO much.
Learning to be a good listener to what is alive in us allows things to digest rather than become built up or constipated.
Learning to keep company with what is alive in you, to welcome the outcast parts, to listen to the layers without trying to fix or change them, to keep company with them with compassion?
It's something most of us weren't taught how to do.
Our parents didn't know how.
And well, it changes everything. Truly. It is also the foundational key to becoming a supportive listener for others. And baby, do we need more of those! No advice, no fixing, no aggressively cheering up a sad part, no should-ing. Just listening. What a relief. Witnessing. Being with. It's profound. And it takes practice to learn how to meet ourselves and others in this way. You don't need to have any particular experience in order to join the course. You just need a willingness to connect, with kindness.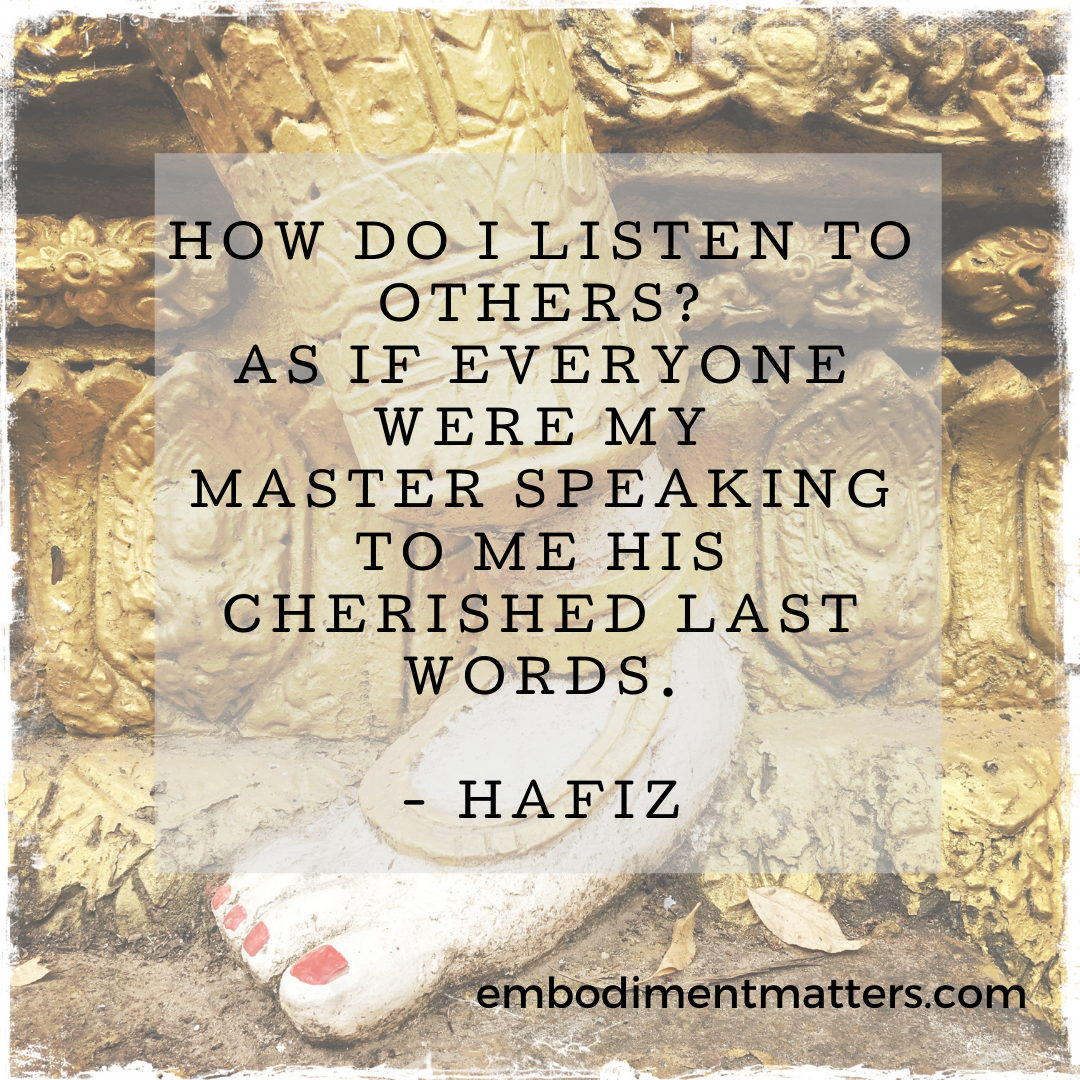 I'd love to invite you to join me in learning and refining this practice in a supportive community circle. I'm offering two courses this winter in Embodied Listening. One is in person on Monday evenings – and I'm thrilled to say that I've been able to claim an earlier time at the lovely studio where I teach – so class will be from 5-7:30 pm. I'm also offering a live online version for folks who might be out of town or find the Tuesday noon time easier to do.
I am thrilled to say that I have lovely and experienced assistants to help in each class! Please plan to spend an hour each week outside of class time to practice with your assigned partner. Partners will rotate each week.
A few more quick reminders:
We're thrilled to be hosting Stephen Jenkinson and the Nights of Grief and Mystery tour this Saturday night at the Main Library auditorium. As of this writing, there are about 50 tickets left. We'd love to see you there! Details here.  Doors open at 6:15. We can't wait!
You can still join us for the November Embodiment Lab on Growing Hara – such powerful learning that can be potent and life-changing. Next week we'll have registration open for the December Embodiment Lab: Your Ribs are Not a Cage. We can hardly wait for that exploration too.  We LOVE THE LAB!!! And we'd love to have you join this amazing online learning experience and community!!!  
We're offering Embodying Presence: A Winter Retreat Day on Saturday December 14th from 1-6pm at Vitalize Studio, which will include gentle movement, guided meditation, poetry, deep relaxation, and a soul and body-nourishing pause for quietude, simplicity, and spaciousness – aligning ourselves with the quieter, slower rhythms of nature in December.
COSTA RICA CALLING !
Does one of the rooms at Finca Mia have your name on it? Are you feeling the call to slow down and steep yourself in the Costa Rican vibe of Pura Vida and clean, green, beautiful earth? Join us in February! Always the month when I'm ready to escape winter.  Read more below or here.  We'd love to make it easy for you every step of the way!!! Come with us!!! If you'd like to explore options or have questions, just let me know – I'd be happy to connect with you!
Thank you for reading.
Thank you for being.
With so much gratitude and on my knees in awe,
Erin
Don't miss a single post. Sign up here to get them delivered straight to your inbox.